LGBT Lawyer Serving Folsom & Northern California
Serving LGBT Families With Custody, Visitation, Divorce, & Support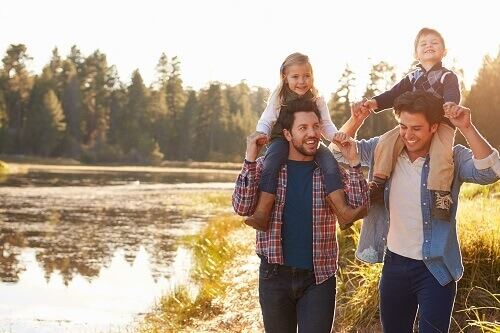 The staff and attorneys at the Law Office of Tiffany L. Andrews, P.C. are pleased to serve the lesbian, gay, bisexual, and transgender ("LGBT") community. If you are dealing with family law issues such as divorce, custody, legal separation, termination of domestic partnership, removal of your children from Child Protective Services, or other family law issues, we are not only here to help navigate you through this legal process but will do it with pride, kindness, compassion, and respect. All legal options we offer – including mediation, collaborative law, litigation, and unbundled services – are all available to the LGBT community.
To get started on your case, please call us at (916) 794-4576 or contact us online.
The History of LGBT Rights
The legal history of LGBT rights throughout California and the nation has been ever changing for a number of years. It is a complex area of law and can impact your rights during a divorce or legal separation.
As of today, same-sex couples have the ability to not only register as domestic partners, but they may also marry, divorce, adopt, face issues with filing taxes, and terminate their domestic partnership. To handle these legal issues – especially with the ever-changing laws recently – you will need an experienced family law attorney who is familiar with the history and can ensure that your rights are protected.
Comprehensive Representation for Your Family Matters
Families in today's society can be made up of many different facets. This is even more true for the LGBT community.
Now that same-sex couples have the right to marry and divorce, they are also faced with related issues including:
LGBT families can be formed in many different ways. If you are thinking of ending your marriage, terminating your domestic partnership, legally separating, filing to establish parentage of a child, or seeking custody of a child, you will need the guidance of an experienced and knowledgeable LGBT mediator or attorney from the Law Office of Tiffany L. Andrews, P.C.
Having an attorney who is knowledgeable in these areas will ensure you are not only treated with respect but assisted through this tough time in your life. Our Folsom LGBT family lawyers are dedicated to serving you and your family with care and compassion.
Reach out at (916) 794-4576 or contact us online to learn more about how our firm can help you.
Client Testimonials
We're Here to Help You Through This Difficult Time in Your Life
I am very lucky to have Tiffany Andrews as my attorney! - kvitkoolga

Amazing Family Law Attorney! - Chad

Review of Tiffany Andrews - George

Hard Working - Previous Client

Dedicated and Professional - Previous Client
We're Passionate About Your Future
2015 Certified Family Law Specialist, State Bar of CA, Board of Legal Specialization

2011 Certified Welfare Law Specialist by NACC, Accredited by the CA State Bar Board of Legal Specialization

Active in the Local Community

Involved in the State Legislative Process